Whole Building Testing
Serving Alabama, Georgia, North Carolina & South Carolina, and the Eastern United States
Commercial Blower Door Testing
Maximize the energy efficiency of any building with a blower door test.
5 Types of Whole Building
Air-Tightness Tests
Qualitative Test
This test can be performed at the mock-up stage, during construction or as part of final testing to identify air leakage paths.

This test is most effective when done early in the construction phase because it uses visual indicators to locate air leakage paths.
Quantitative Test
This test is performed at the end of a project to verify compliance or identify leaks. 

It's not recommended that you rely solely on this test because it may be difficult to address leaks found at the end of a project.
Building Envelope Test
This is an airtightness test intended to test only the air barrier of a building. 

All intentional openings in the building, like windows and doors, must be closed or sealed to perform this test.
Operational Test
This test evaluates the airtightness of the building envelope as it would be while in use. 

This means all HVAC-related openings are left as found or closed but not sealed.
Whole Building Airtightness Test
This tests the entire building enclosure.

All spaces in the building must be simultaneously pressurized or depressurized to create a single-zone condition for testing.
Download our Free Guide:
How to Pass a Blower Door Test the First Time Every Time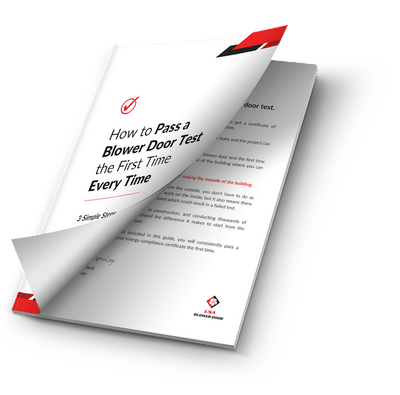 Areas Required by Energy Code to Perform Whole Building Testing
Experienced Trade Partners You Can Count On
Too many building projects get delayed because of unreliable subcontractors. Our DET certified technicians arrive on schedule so you can get your energy certificate and keep your jobs moving forward on time.